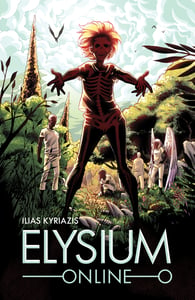 $

6.00
"Just when I thought it was impossible to come up with a fresh, original concept in horror, Ilias Kyriazis has done it. And he drew it beautifully too. Someone needs to tell him there's such a thing as being TOO talented!"
Christos Gage (Avengers Academy, X-men Legacy)
"[Elysium Online] is a stunning piece of work. A fresh concept with wonderfully striking artwork."
Michael Allred (Madman, X-Statix, Red Rocket 7, FF)
"A much scarier and more emotionally hard-hitting version of a Roland Emerich movie!"
Mike Carey (X-Men Legacy, Lucifer)
"I've worked with some of the greats in the comic book business, so trust me when I say that Ilias is one of them! He writes, he draws, he colors - and he's a master at all of it. No throw some cash in the kitty, because we're all going to benefit from seeing this gorgeous and horrific graphic novel come to life! Or is that come to afterlife?"
Scott Lobdell (Superman, Uncanny X-men)
ELYSIUM ONLINE is a full color, 96 page graphic novel by Ilias Kyriazis.
It's a sci-fi, horror drama that is as much about the way society deals with mortality as it is about disaster movie type mass destruction.
More info and a preview of the first 12 pages here: http://www.indiegogo.com/projects/elysium-online
The digital version of the Elysium Online graphic novel. In CBR and PDF formats.
You'll be sent a download link via e-mail within a day of your purchase.